Een trans-romantisch avontuur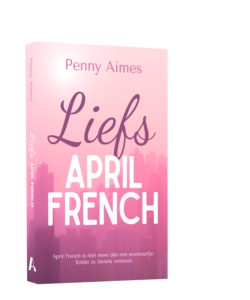 April French doet niet aan relaties. Beter gezegd: relaties doen niet aan haar. Voor de mannen die ze tegenkomt bij kink club Frankie's, is trans vrouw April niet meer dan een avontuurtje. Ze weet hoe verlangen werkt en ze weet vooral hoe ze haar eigen verlangen in toom moet houden. Dan kan ze tenslotte ook niet teleurgesteld worden.
Dan komt Dennis binnen bij Frankie's. Hij is net naar Austin verhuisd vanuit Seattle en ziet er wat verloren uit. April vangt hem op, wat leidt tot een drankje. Dat leidt tot flirten. Dat leidt tot een onvergetelijk opwindende nacht.
Als Dennis vraagt of ze hem haar nummer wil geven, doet ze dat.
Als hij vraagt of ze hem haar vertrouwen wil schenken, vindt ze dat lastiger.
En als het verlangen dat ze zo goed dacht onder controle dacht te hebben aan alle kanten tot leven komt met Dennis, wil April het ineens allemaal: passie, betekenis en zelfs commitment. Maar naarmate hun relatie zich ontwikkelt van ingewikkeld naar onmogelijk, moet April keuzes maken. Hoeveel is ze bereid écht te doen voor haar verlangen?
Liefs, April French is de debuutroman van Penny Aimes, een trans vrouw die zelf ook in Austin woont. Nadat ze ontzettend veel 'billionaire romances' had gelezen en alle trans verhalen die ze kon vinden, besloot ze tijdens de lockdown te gaan schrijven om zichzelf op te vrolijken.